5 Tips to Up Your Style
There is an art to dressing well. From choosing the right attire for the look you want, to picking the accessories to match, there are numerous approaches you can take to elevate your style. Good style does not only make heads turn your way, but when you dress well you feel great. If you're looking for ways to dress smart and not sure where to start, here's a guide on a few wardrobe enhancements you can make to transform your look.
Get a Custom-Tailored Suit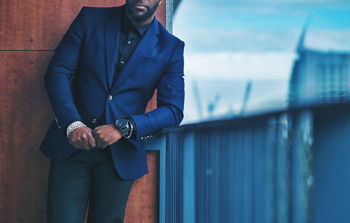 No matter what shape your body is, a custom-tailored suit will always fit you perfectly. When you purchase a ready-to-wear suit, it's likely to be too loose, too long and made of materials that are not built to last. When you go custom, you know that the suit you purchase will fit perfectly and not only make you look good, it's going to make you feel good. Whether it's an outfit for your office or an elaborate event, you can never go wrong with a well-fitted ensemble.
If you're looking for something timeless, dark colours are your secret weapon – anything black, charcoal or navy makes you look smarter. Once you've got this essential piece in your wardrobe, you'll rule any room you walk into.
Try a Double-Breasted Blazer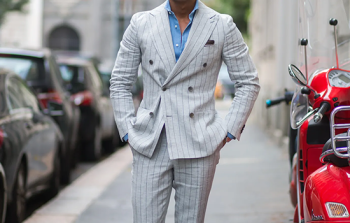 Want another stand-out piece of clothing? Try a double-breasted blazer. It represents high fashion and sophistication and brings your outfit up a notch.
In short – this jacket style flatters the majority of men because it broadens your shoulders and cinches the waist, but of course, like any custom-tailored outfit, the secret to wearing any double-breasted blazer is getting the right fit. The beauty is that it's an incredibly versatile piece of clothing. You could dress it up by getting the matching trousers, or dress it down with more casual pants.
Add a Pop of Colour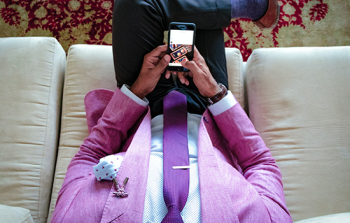 Though black is classic for a suit, sometimes you need a bit of colour to balance the dark tones. If you think adding a pop of colour might be your 'thing', here's how to start.
First, pick one colour at a time. It's only natural that the idea of taking something classic and making it more unique with your own touches is exciting. But, getting carried away is easy. You can start by wearing neutral-coloured shirts or adding small accent pieces such as a bright tie or pocket square. Alternatively, you could pair your classic suit with a coloured shirt. But, if you want to go all out and order your entire suit in the colour of your choice, ask your bespoke tailor about what would look best on you. Warmer colours usually complement darker skin tones while cooler colours compliment lighter skin tones.
The simplest way to embrace colours is through accessories. Ties, bowties or a classic pocket square can add a splash of colour to your outfit. It's essential to find the right pop that works for you.
Keep Accessories to a Minimum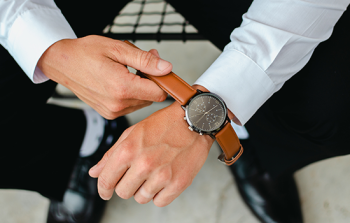 Accessories can either make or break it. You want any additions to your outfit to look almost effortless but still add a unique touch. Here are a few pointers to help you choose the right accessories for your outfit.
Ties and bow ties are probably the most popular addition you can add to your look. While ties are the more popular choice to complement a suit, bow ties are also a good option. The main things to consider when choosing either is the colour and pattern to complement your shirt and jacket. If you want to go for a bold pattern, those will look best on a solid-coloured shirt. A tie bar or a tie clip is another accessory you can add that'll give your outfit a more formal look. These small details simply add that finishing touch to a gentleman's outfit.
Pocket squares are another subtle accessory that can add new colours and patterns to your outfit. They're not essential, but if you do decide to wear one, make sure it's not directly matching your suit or tie colour – that's a big fashion no-no. You could choose a pocket square that is a shade lighter or darker than your ensemble or add something that works with the complementary colours of your outfit. A bright, bold or patterned pocket square can give that lift to an otherwise classic suit
A watch goes with any attire. Not only is it functional, but it's a stylish and powerful addition to any men's suit. The advice here is that the dressier your suit is, the simpler your watch should be. Like the other accessories, it should be a subtle attraction that doesn't draw too much attention. Your watch speaks volumes about your personal style, taste and lifestyle, it can be as subtle as a leather strap watch, an Apple watch, or a stainless steel band.
It's important to ensure that your accessories match each other as well as your suit. Keep your look simple – you don't need to try too hard. Stick with your basics and you'll be good.
Stick to Classic Shirts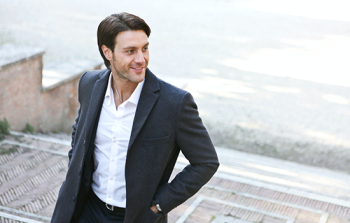 If you walk into our showroom or meet us on one of our trunk show tours, you'll notice that there are an infinite number of fabrics, patterns and styles you could pick from for your shirts. But before you get into choosing what you want, it's important to note that your shirts' most significant feature is their fit. Having a well-fitted shirt gives you a look that is like no other. If your shirt does not fit your body well, none of the details will matter.
Having a white Oxford button-down shirt is a staple in any wardrobe, but there's also so much more to choose from while still keeping it classic. You could play around with other neutral colours or experiment with stripes, checks and fancier patterns, or collar and cuff styles. As style is very personal and subjective, you should work with your bespoke tailor to explore what choices you should make to suit your requirements.
The clothes you wear say a lot about you. You can always dress up or dress down your look and still make an impact. It's how you put your look together that makes the difference. Keeping these 5 points in mind can keep you looking stylish and sharp!