Give Your Bespoke Shirts the Care They Deserve
Custom-tailored shirts set the spotlight on you, but they too need care and maintenance. Although bespoke clothing is built to last – they should be cleaned and stored properly to extend their lifetime.
Even shirts from a premium brand like Maxwell's Clothiers, should be kept in pristine conditions. Here are a few tips to maintain your clothes, so they keep looking sharp.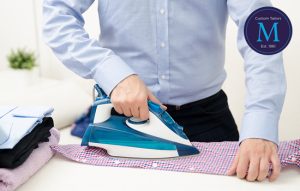 Iron With Care
Custom shirts always need a good pressing to keep wrinkles away while keeping the collars and cuffs crisp. Press your garments gently by using a low heat setting to avoid stressing the fabric.
When ironing, begin with the larger areas and then move on to the cuffs and collars.
To remove wrinkles from fabrics such as cotton and linen, first iron inside and then on the outside. Allow the material to cool.
Lay the collar flat and iron slowly, avoiding the buttons. Do the same for the cuffs.
You can also spray some water for wrinkle removal.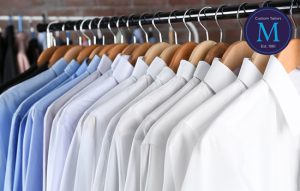 Washing – Professional or DIY
For bespoke men's shirts, there are two options – professional cleaning or washing them at home.
Professional
Find a reputable cleaner who can adhere to following care instructions on the garments, avoiding excessive heat and unnecessary chemicals in the cleaning process.  (Don't let your cleaner cook your shirts) Sending your clothes to the cleaners is affordable and convenient.
At Home
If you want more control over washing, you can do it at home with these simple steps –
Unbutton the shirts completely and place them in the washing machine using a Delicate Cycle.
It's recommended to use warm water for light colors and cold water for dark colors.
Use only high-quality detergents and avoid having harmful chemicals like chlorine or bleach.
Use of dryer is not recommended as it would shrink the shirt prematurely. Hanging your shirts to dry is preferable.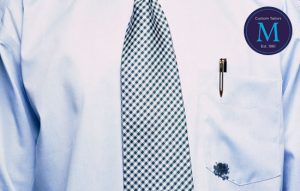 Remove Stains Like a Pro
Should you encounter a stain on your shirt, try to get rid of it as soon as possible, to avoid any permanent mark! Follow these simple tips for removing stubborn stains –
Apply a professional stain remover onto the affected area and gently dab the stain with a clean white cloth and avoid rubbing on the fabric. You may also place a cloth under the stained area.
You can either wash the stain immediately or let the shirt sit overnight and then wash it away.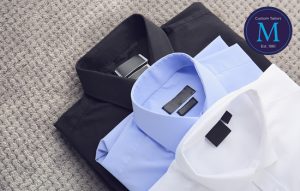 Storage
Whether you prefer to hang or fold your shirts, button them up before placing them back in your closet. You can arrange them by most used, color, pattern or occasion and match them with your favorite tie or jacket.
Wrapping Up
Whether you order a bespoke shirt online or get it tailored yourself, with a little care and maintenance, your bespoke shirts will stay with you for years.